The following is a bit by bit breakdown of my 05052018 Lost and Found Gravel Grinder  course recon.  The purpose of the recon was to:

Test my fitness, pacing and pedal stroke (see strava activity below)
Practice backcountry navigation (see relive flyover below)
Test Nutirtion (see gear info below for details on products)
Test the 38 x 20 Single Speed gearing (see profile map and explanation below)

---

The image below is a basic slope profile I created from a GPS visualizer.  Essentially all you need to do is grab the KML file (provided on the Lost and Found Website) then upload to the visualizer and modify to your needs.  I was looking to isolate grades above 8(ish) percent as my pedal stroke becomes a little sloppy at or above these grades – not to say I cant pedal at this extreme, its just that the pedaling is inefficient in my opinion.  So after a few basic calculations I determined that the cost benefit of a 38 x 20 setup would be advantageous to not only meeting an 8 hour goal but also, utilizing my strengths (continuous climbs greater then 10 minutes and rolling hills).

The end result is that the cumulative effects of climbing grades above 8ish percent (areas above the green line) on a 38 x 20 single speed throughout the 100 mile course proved very difficult.  I found myself struggling to turn the cranks on the sections above the green line, especially in the last twenty miles or so – this part of the course is aderous to say the least.  The conundrum I am faced with is that the course has 40 or so miles of pavement which, for a single speeder can be a blessing (tall gearing like 38×20) or a curse (short gearing 34×20).  So, I am going to keep testing new gear ratios till I find a happy medium.  My next set up will be a 36 x 19 (a gearing that worked very well for me in 2010 when I completed 250 plus miles at the 24 Hours in the Old Pueblo).

---
Navigation these days is pretty simple – find the gpx file, convert tcx and then upload to a Gramin device.  As you can see from the flyover I had to double back a few times as I got a little confused (the course has a crzy amount of intersections) with directions.  Either way, the beautiy of Garmin is that it gives you an alert when you are off crouse so within 150 feet or so I would know if I took a wrong turn.  One thing is for sure and that I will be investing in a SPOT satellite device as this course is some of the most remote country I have ever explored (solo that is).
---

Pacing is and always will be a huge part of my racing strategy.  It's very easy for me to lose focus and start chasing wheels in the first 4 hours and to lose sight of the end goal which is to race my own race.  I rarely consider actually racing an event like this as the number of variables is enormous so, having a pacing element like Garmin's ghost rider is a huge benefit.  I projected my time of arrival (arrive back to camp at 8pm) via machineheads power calc software and enter this into Garmin Connect along with tcx course file and it will pace me all day long.
---
Of course (pun intended) this is my favorite part of the adventure -the bike.  I love steel.  Its strong, reliable, and made just for me.  The frame was constructed in 2008 by a builder and good friend in Tucson and the fork was constructed in 2017 just north of Sacramento also by a builder and friend.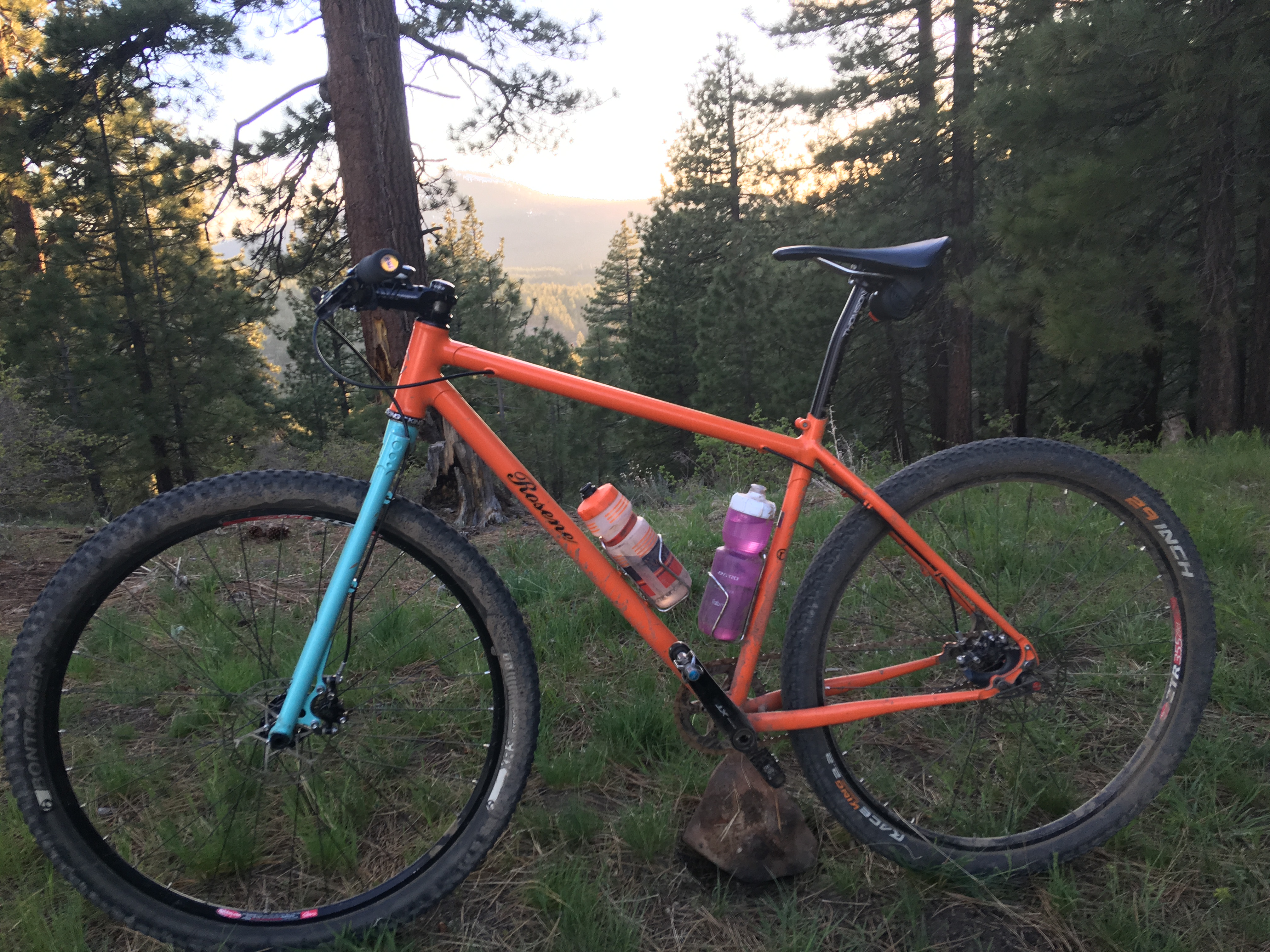 Rosene Custom 29er Frame
Crankbrothers Eggbeater 3 Pedals
Stans No Tubes ZTR 355 Rims
DT Swiss 240s Hubs
Continental Race King 2.2 Tire (rear)
Bontrager Xr3 2.3 Team Issue Tire (front)
Deckas Narrow Wide Chain Ring 38 Tooth
Chris King Stainless Steel 20 Tooth Cog
Specialize Phenom Saddle 155
ESI Fit CR grips (soooo comfy – rode the whole course without gloves)
---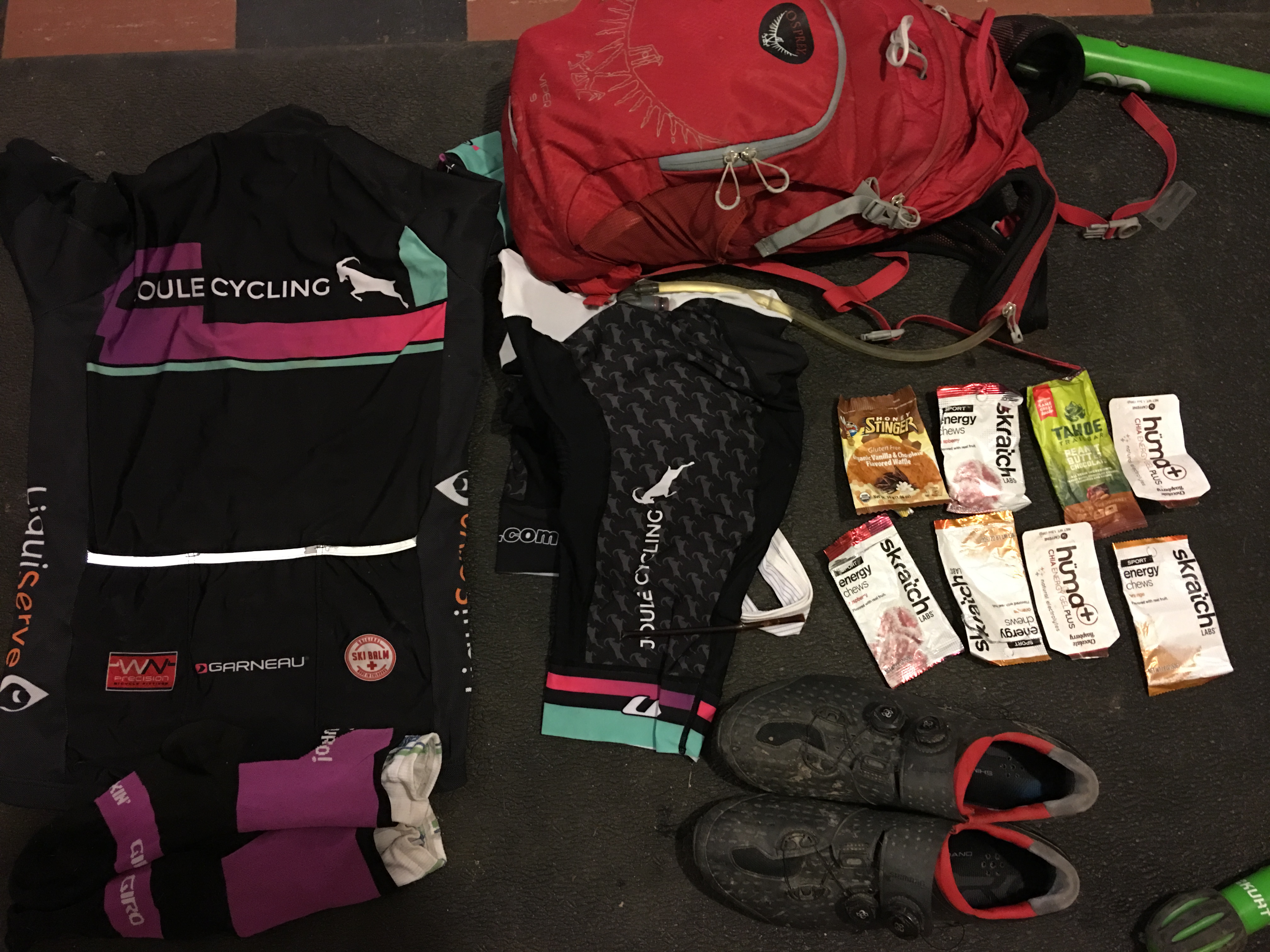 Lost and Found Recon Gear
Gear Continued
Joule Cycling Custom Louis Garneau Cycling Kit
Osprey Viper 9 Hydration Pack (3-liter reservoir)
Two pairs of socks (Giro and Sock guy)
Catlike Helmet
Smith Pivlock Sunglasses
No gloves
---
Nutrition
Huma Plus Mix Gel

Two Chocolate Raspberry  (100 Calories each)

Skratch Labs Sport Energy Chews

Two Orange (80 Calories each)
Two Raspberry (80 Calories each)

Tahoe Trailbar

One Peanut Butter (260 Calories)

Honey Stinger Organic Waffle

One waffle (150 Calories)

Honey, Peanut Butter, Butter and Salt Sandwich on White Bread

Two sandwiches (about 500 calories each)
---
---